This holiday season, many of us are feeling more comfortable traveling to see loved ones, shopping in person and scoping out the things to do and places to visit.
As we continue to navigate this new normal, we took a look at Google Maps trends in the U.S. — from the most popular times to visit certain places to what foods Americans are ordering most — to help you make your list, check it twice and get through the holiday season safely, efficiently and joyfully.
No thyme for lines and crowds? No worries
Whether you're shopping for the perfect Thanksgiving turkey or refilling your hand sanitizer supply, no one likes waiting in line. According to Google Maps data, these are the best and worst times to visit the grocery store, based on the live busyness information in Google Maps: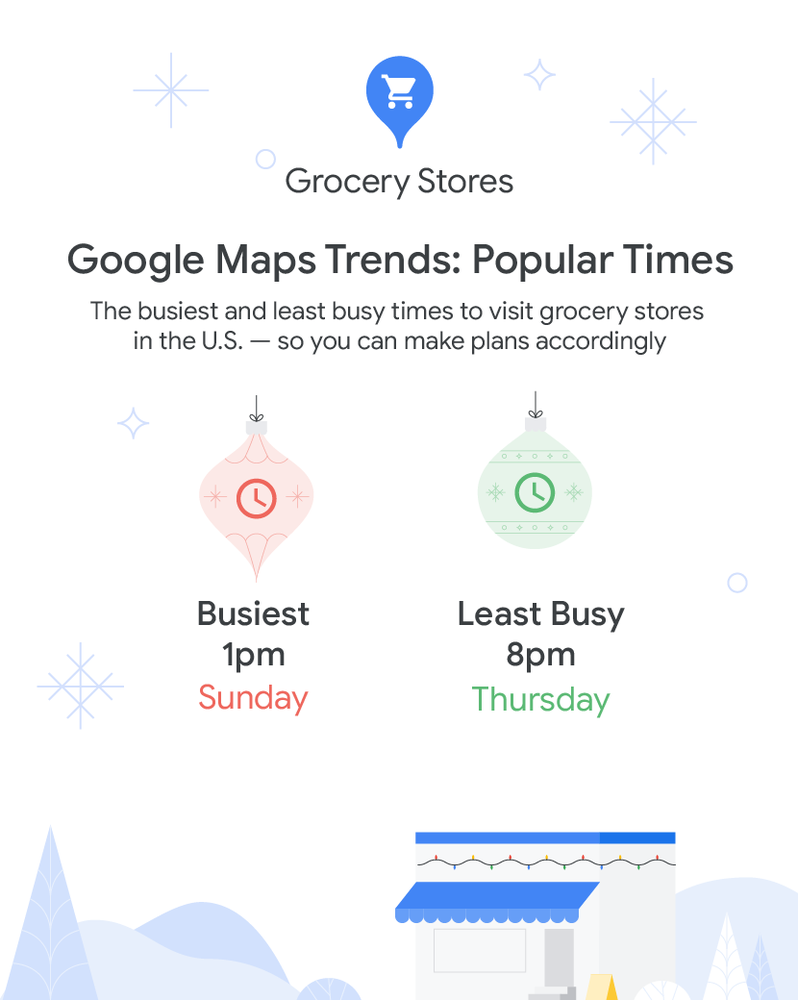 Last year we saw popular gift stores like Kay Jewelers, Bath & Body Works and Barnes & Noble trend in December, with Maps searches for these places increasing 100% from the month before. With expected shipping delays, it's important to get ahead of your holiday shopping. Here are the best and worst times to fill your sleigh at shopping centers and department stores, according to Google Maps data: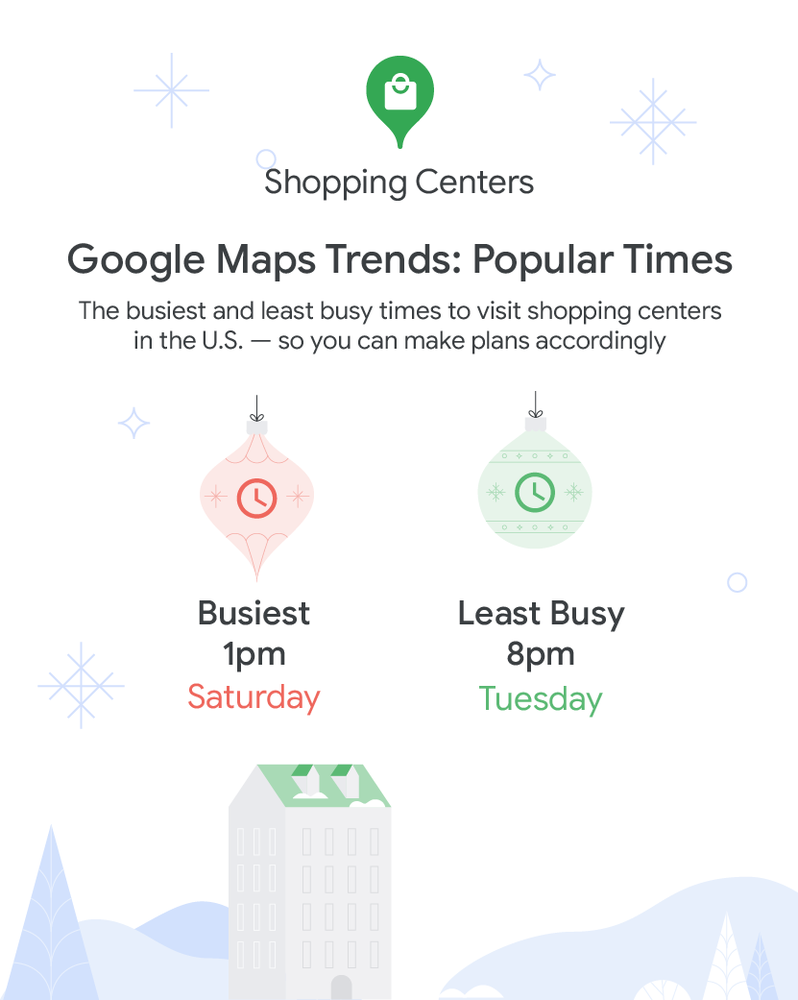 Once you've gathered all your gifts and written your cards, it's time to head to the post office to spread holiday cheer. With fewer people traveling to meet up with loved ones, Maps searches for post offices were up nearly 150% month over month last December. Check out the best and worst times to visit the post office so you can get those holiday cards out without the hassle.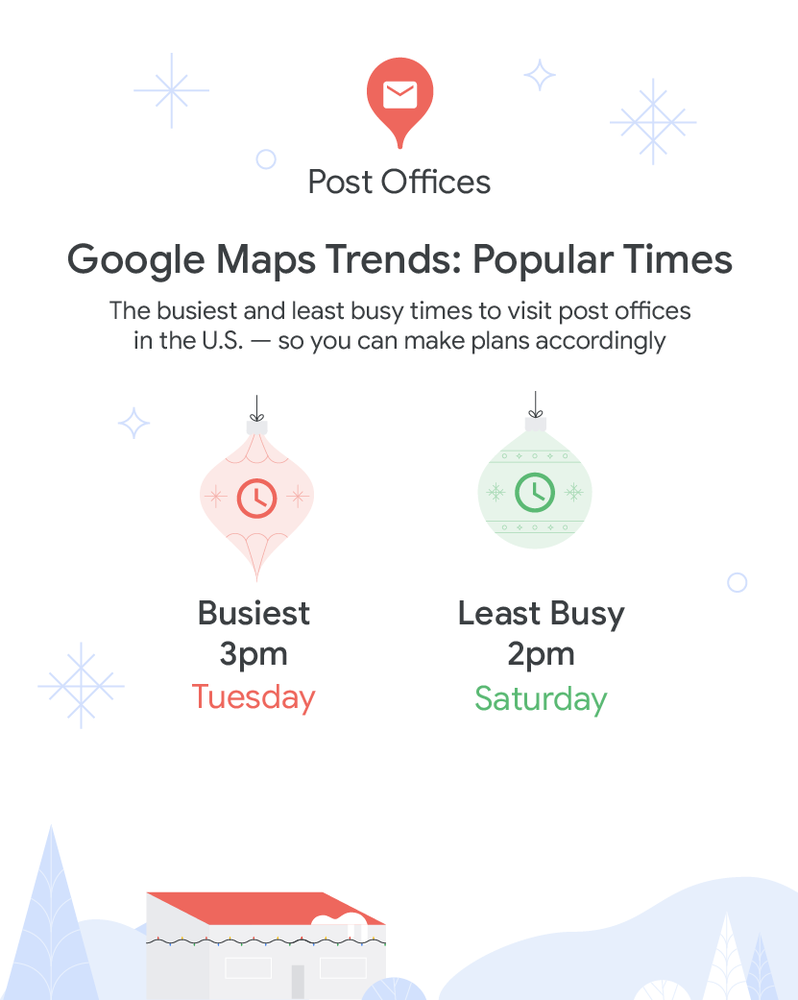 After all that holiday hustle and bustle, it's time to treat yo'elf! According to Google Maps searches, people look for nail salons more than three times as much as they search for gyms in December. If you're looking to get pampered at the salon, consider making your appointment at a less busy time: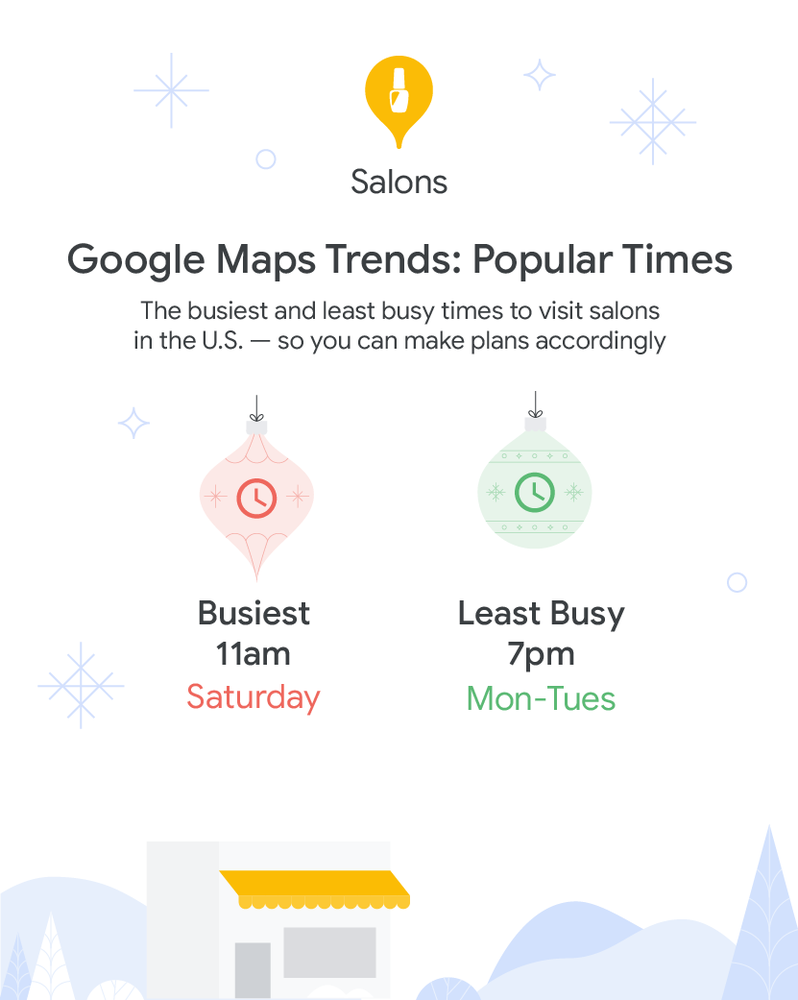 But wait, there's myrrh. Once you know where you're going, the next step is figuring out how you'll get there — whether it's a plane, train or Polar Express.
According to Google Maps, it looks like Americans are getting back to familiar methods of transportation, with national interest in public transit up 40% compared to last year. This jump is higher in metros known for their public transportation: San Francisco leads the way with transit interest up nearly 95% compared to last year, followed by Washington D.C. (up nearly 75% since last year) and Chicago (up nearly 65% over the same period of time).
Should you choose to travel through the skies (red nose not included), book your travel around these least busy times: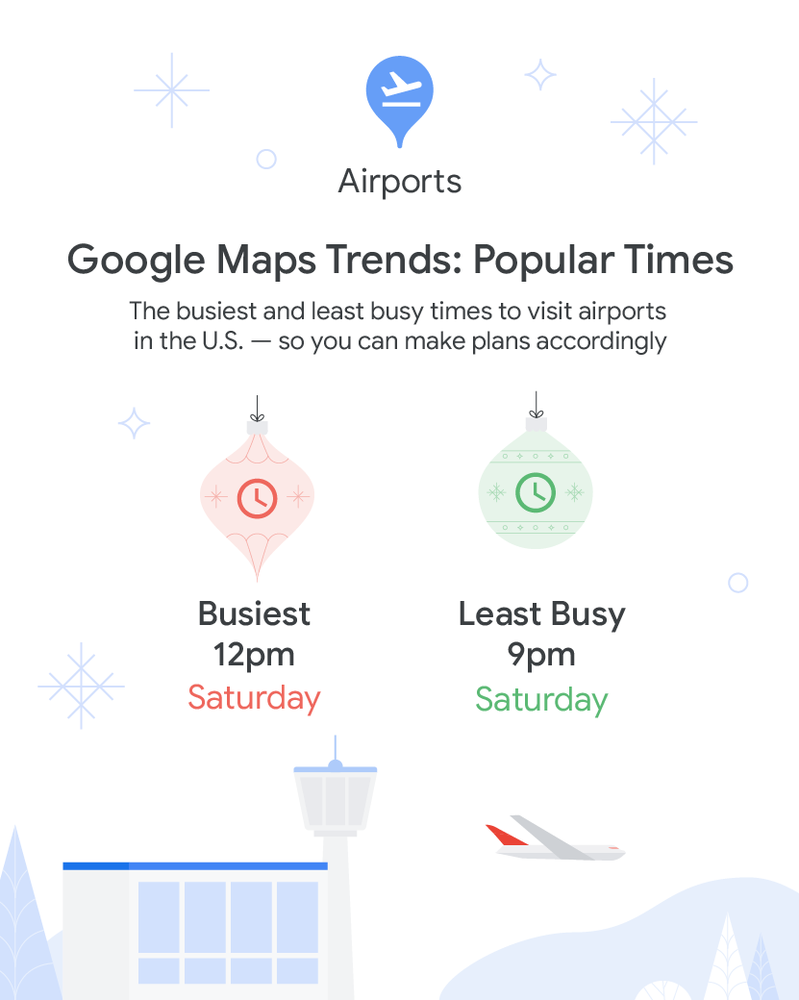 Eat, drink and be merry
While some people spend the holidays cooking up a storm, some of us like our meals like we like our presents: delivered. In fact, on Christmas Day, Americans search for food delivery options on Google Maps more than twice as much as on a typical Saturday.
Here's a look at what food Americans search for and order on Google Maps during the holiday season:
🥡 Chinese is the most popular cuisine Americans order on Google on Christmas Day, with orders increasing 25% compared to a typical Saturday.
🤝 New York and Los Angeles put their coastal rivalries aside for the holidays — at least when it comes to food ordering. Both cities prefer Chinese on Christmas Day, and stick to pizza on Thanksgiving, Christmas Eve, New Year's Eve and New Year's Day.
🍔 Seasons meatings? Portlanders turn to Maps to search for burgers most on Thanksgiving, Christmas Eve and New Years Eve. Burgers are also the top-searched food on Google Maps in Minneapolis on New Year's Eve and New Year's Day.
🍜 Skip the turkey, and pass the noodles! Seattleites search for Thai food on Google Maps more than any other cuisine on Thanksgiving Day.
Holiday Activi-trees
During the holidays, Rockefeller Center is a top trending destination in the U.S., with Maps searches spiking more than 300% last December. Not exactly pine-ing to see the big tree? No problem. Here are 10 of the most popular attractions in the U.S., according to this year's Google Maps searches:
Whether you have family in town, have extra time off or are looking for inspiration for things to do while on vacation, we hope these trends get you in the holiday spirit. For hacks on how to survive the holiday season, check out these tips and tricks to make Google Maps your ultimate holiday side dish, er, we mean sidekick (but if it were a side dish it'd totally be stuffing).
from Maps https://blog.google/products/maps/google-maps-2021-holiday-trends/