We launched Google Assistant five years ago — and back then, it sometimes felt a bit strange to ask our devices for help. Now, digital assistants are part of daily life for millions of people around the world. In fact, Google Assistant has helped answer billions of questions, send millions of messages, make millions of recipes, set billions of reminders and much more (hands-free!).
In its early days, Assistant offered just two voices, was available on Google Home speakers in the U.S. and supported English and German on Pixel phones. Now, Assistant is available in over 90 countries in nearly 30 languages, offers 10 voices to choose from and works with more than 100 million smart home devices, including lights, security systems and thermostats.
Try asking "Hey Google, Happy Birthday" or "Hey Google, how old are you?" for a timely surprise. To continue the celebration, members of the Google Assistant team share some of their favorite features and advancements from the past five years.
Supporting more complex, contextual and helpful conversations
Dave Orr, Group Product Manager, Natural Language Processing
Google Assistant brings together all the technology Google has been building for years, from the Knowledge Graph to Natural Language Processing. One of my proudest moments working on the team was when we applied BERT, the revolutionary neural transformer invented by Google in 2018, to Assistant conversations, helping Assistant understand context and longer dialogs, making conversations more natural.
Advancing and expanding AI capabilities
Lisa Huang, Group Product Manager, Duplex
A major milestone for me was when we introduced Duplex for Google Assistant three years ago — revolutionizing the ability for computers to understand and generate natural speech. It meant Assistant could make a phone call on your behalf for an appointment, find store hours or make online food orders easier. In fact, more than 600,000 reservations at restaurants and hair salons were made last month with this feature. Throughout the pandemic, Duplex made millions of calls to businesses for store hours and delivery availability, in Maps and Search.
Building a more inclusive Assistant
Beth Tsai, Director, Policy
One of the things I love most about Assistant is how intentional we've been about inclusivity. For example, we don't think of Assistant as having any particular gender, which is reflected in its name. When you set up your Google Nest device, we randomly assign a voice, so you have a 50/50 chance of getting one of two voices — either the "red" voice or the "orange" voice. We don't formally designate voices as being "male" or "female," but you can think of the "red" voice as traditionally female sounding, and the "orange" voice as traditionally male sounding.
Bertrand Damiba — Group Product Manager, Language, Translation, Routines & Recommendations
I'm really proud of how our team mobilized to support and educate users around the Black Lives Matter movement through inclusive content. We also added the ability to say "Hey Google, what happened today in Black history?" and "Hey Google, what happened today in Latino history?"
Sheenam Maheshwari — Product Manager, Text-to-Speech
We've been working on adding Text-to-Speech voices for Google Assistant that can fluently speak and understand more than one language, even within one utterance (or code-switching) — they'll launch in the coming days. Check out a preview of the new English-Spanish bilingual voice when you ask Assistant about Latino history. Names will even be pronounced in a more authentic Spanish accent. We'll add support for English-Hindi and other common language pairs where code-switching often occurs later this year.
Designing a private Assistant from the ground up
Bryan Horling — Software Engineer, Privacy
A highlight from my time on the team was when we launched Guest Mode. Just say, "Hey Google, turn on Guest Mode," and your Google Assistant interactions will not be saved to your account. Another way we're helping users manage their data is with voice actions: You can say "Hey Google, delete my last conversation" or "Hey Google, delete everything I said to you this week" and Assistant will delete activity from your account.
Google Assistant is built to keep your information private, safe and secure. As always, users have control over how Google Assistant handles their data and the features they choose to use. You can do things like review, delete or turn off Web and App Activity, limit audio recordings or turn off ads personalization.
Creating more secure, optional personalized experiences
Nino Tasca — Group Product Manager, Speech
It was really exciting to be the first to introduce the technology that lets users teach a digital assistant to recognize their voice with Voice Match. You can choose to train Google Assistant to recognize your, your kids' and whoever else's voice you share a home with so everyone gets personalized responses. We built on this with Face Match, which means your device can recognize when you walk up to it and present a personalized display, or media — like your calendar or upcoming package deliveries.
Hands-free help while driving
Effie Goenawan — Product Manager, Auto
We just launched several new Google Assistant updates for cars, and I personally love that you can say "Hey Google, pay for gas" to complete your transaction from Android Auto or from your Android phone. And starting to roll out today, you can say "Hey Google, let's drive" to access a new dashboard for Google Assistant driving mode on your phone or automatically launch it in your car via Bluetooth.
Helping families throughout their day
Brad Abrams — Group Product Manager, Family
At the onset of the pandemic, I quickly learned my family needed help keeping on track. One of my favorite productivity features is Family Bell. I use it on my smart speakers and smart displays to remind me it's time to make dinner, or for my kids to take a break and stretch.
Building the smart home of the future
Michele Turner — Sr. Director, Product Management, Smart Home Ecosystem
One of the most exciting milestones for me was when Google and other leading tech companies came together to develop Matter, a protocol that simplifies smart homes by using one standard across the industry.
A redesigned Assistant for the phone
Luv Kothari — Senior Product Manager, Mobile
I personally enjoy calling features like Call Screen and Hold for Me where Assistant manages tasks over the phone. And our recent breakthroughs in on-device speech processing means that more requests can happen right on your Pixel, making Assistant faster and many device-level queries like "take a selfie," "open Chrome," "turn on flashlight" work even without an internet connection.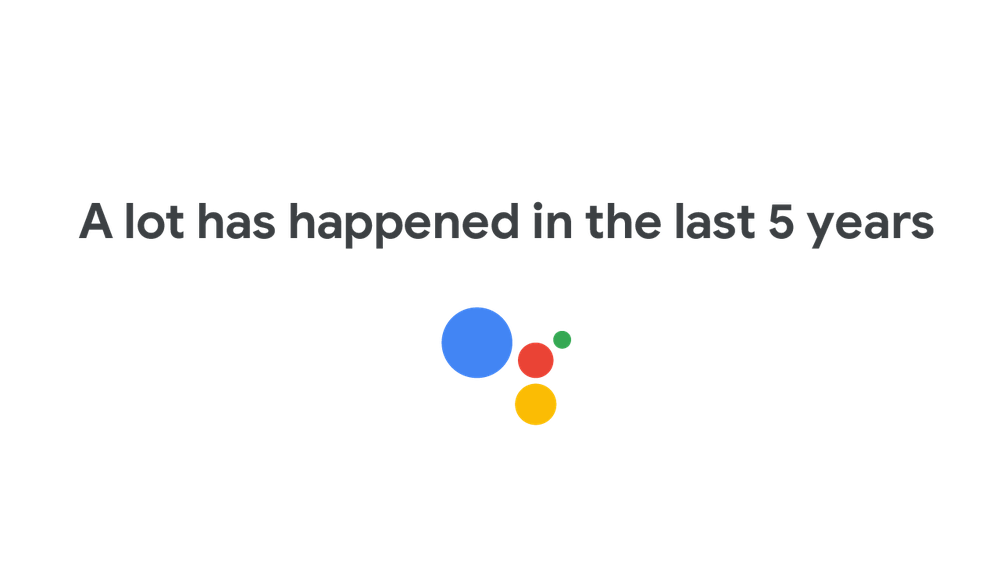 source https://blog.google/products/assistant/happy-5th-birthday-google-assistant/